Cain Industries Designs and Manufactures the Highest-Quality, Most Fuel-Efficient Exhaust Heat Exchange Systems on the Market.
Facts
20-100% of every combustion fuel dollar spent escapes through heat exhaust. The great news is 30-50% of this wasted energy can be recovered! Cain Industries reclaims lost heat and transfers its precious BTUs back into your water, glycol, special fluids and steam processes. Listed below are applications that would greatly benefit from a Cain heat recovery system:
Combustion Source
Wasted $$ for every
fuel dollar spent
Industrial Hot Water or Steam Boilers
$ .20
Commercial Hot Water or Steam Boilers
$ .30
Dryers
$ .30
Reciprocating Gas Engines
$ .35
Diesel Engines
$ .35
Ovens
$ .40
Furnaces
$ .80
Incinerators
$1.00
Catalytic Converters
$1.00
Versatility
Since 1978, Cain Industries has manufactured high-quality waste heat transfer products and systems. Our focus is to reduce fuel usage and pollution - globally. Our clients, with retrofit and OEM applications, rely heavily on Cain's expertise to provide proven heat recovery solutions that deliver results and save them money. Our vast selection of heat recovery products meet the demanding requirements of the Diesel and Gas Cogeneration, Boiler Exhaust and Fume Incineration markets. We've been helping these markets become fuel-efficient for over 40 years!
Cain Industries has become an industry leader by transforming inefficient combustion processes into state-of-the-art heat recovery systems. We manufacture 16 product lines with over 3,450 dependable heat transfer products. Our unique designs increase efficiency and performance, while reducing installation, service and maintenance cost. Absolute customer satisfaction is a direct result of our simple philosophy: Design and manufacture the highest quality waste heat transfer products while providing unmatched customer service.
Fast Payback
The words "safely and economically recover waste heat" equate to "no-risk return on investment (ROI)", which is exactly what Cain Industries heat recovery systems provide. By installing a fuel-saving Cain economizer on a combustion source, the BTUs recovered usually pay for the equipment within 12 to 24 months (annual ROI of 50-100%). Reclaiming 30-50% of the wasted energy for every fuel dollar spent. The exact payback period for your installation will depend on local fuel costs and the hours of combustion operations.
Advantages
Depending on fuel type, temperatures, flow size requirements, performance and specification, Cain Industries can propose a specific cost effective exchanger to economize your fuel bills. Listed below are just a few design features which clearly speak for themselves and far exceed the capabilities of other economizer manufacturers:
Internal, stainless steel, exhaust bypass for stack corrosion control, tempering exit temperatures, and/or protection against exhaust backpressure buildup due to fouling.

Stainless steel hinged access doors for ease of routine inspection and/or cleaning.

Quick release, adjustable tension latches requiring no tools, which lock the access doors in place.

Three types of available fin tube materials:

TP316 stainless steel tube and AL-FUSE™ fin metallurgically bonded.
SA178 carbon steel tube and fin, Nickel Braze/welded or standard frequency welded.
TP316 stainless steel tube and TP304 stainless steel fin, Nickel Braze/welded or standard frequency welded.

No weld/removable tubes with no pressure welds in the gas stream, for easy tube replacement.

Round or rectangular design configurations as standard model selections.

Custom computer design for special multiple order OEM requirements.

ASME & National Board designed and certified by Cain Industries.
Optional Components
Depending on the application, Cain Industries offers a variety of ancillary equipment, such as timed automatic sootblowers, factory insulation, circulating pumps, thermometers, remote indicating controllers, modulating damper actuators, and stack-to-economizer transitions, to meet the needs of each specific installation.
Free Savings Analysis
Upon review of your application, you can expect our proposal within 48 hours. It will include professionally engineered details showing equipment costs, savings analysis, computer-generated economizer performance, cad dimensional drawings, flow schematics, warranty and performance guarantee.
Ease of Installation
The selection of a Cain Industries economizer results in the most economical design to install and maintain. Design advantages such as compactness and lightweight construction allow for installation at the very lowest cost.
Guaranteed Performance
All economizers are guaranteed to meet or exceed the anticipated performance specification.
Exhaust Heat Exchange Systems
Cain Industries has developed a complete line of heat exchangers for the three basic markets: Diesel and Gas Cogeneration, Boiler Exhaust Economizers and Fume Incineration. These systems have been designed solely for the recovery of waste exhaust heat from combustion sources. The heat transfer exchanger models are commonly referred to as heat recovery silencers, economizers, and exhaust steam generators. The sales and engineering involved with the retrofit of combustion sources includes many significant parameters which must be addressed. These factors include combustion types, exhaust stack sizes, space restrictions, and special performance requirements, to name a few. The final result is that the heat of BTU/hr recovery is transferred as either preheated water, liquid or supplement, or primary steam production. This effectively reduces high fuel bills and pollution. The equipment pays for itself (installed) within 6 to 18 months.
Parameters for Recovering Combustion Exhaust Heat are:
Waste Exhaust Temperatures: 350°F to 1900°F
Fuels: Natural Gas, Diesel, No. 2 to No. 6 Fuel Oils and Coal
Volume Flow Rates: 20 - 50,000 SCFM
(300,000,000 BTU/hr input maximum)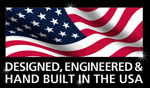 "Manufacturing Exhaust Heat Exchange Products to Save Energy"